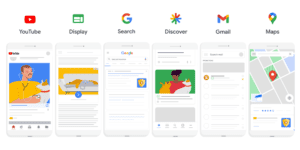 In Early November 2021 Google Adwords released Performance Max Campaign Types to all platform users. Google Adwords Max Performance is essentially a way to activate an adwords campaign across all of Google's platforms within one single campaign.
Click here for Google Adwords Performance Max Creative Assets Requirements
The average cost-per-click for Google Adwords is 1.94 cents, with a median of 1.6 cents. These prices are quite low considering the high volume of interest in the ads on the search engine. This is a great time to be a digital marketer as it is a great way to get your product or service noticed. With the introduction of Performance Max Campaign Types in the Google Adwords interface, it gives marketers the ability to optimize their campaign types to maximize their ROI.
Google previously allowed ad buyers to individually target their platforms like Google Display (content network), Search, Youtube, Gmail, and Maps through differentiated campaign types. Performance Max is intended to provide a single campaign, optimized to your objective, across all platforms. As it was only released to the general public recently, the data will need to prove its effectiveness.
Performance Max is based on the fact that a business' objectives and goals might be better met by using different campaign types on different platforms.
For example, a business might target a set of keywords for a new service and bid on those keywords on Google Search Adwords. They can also target the same keywords for a different service and bid on those keywords on Google Shopping (Gmail). They can bid on the same keywords for one service and target a different set of keywords for another service, and so on. Performance Max can be viewed as a model for optimization.
Performance Max is based on the fact that the online business market is competitive, and online businesses must be able to adapt to changes in the market.
Though I do recommend Performance Max is slowly introduced to your digital marketing strategies, I highly recommend that you continue to activate individual channel campaigns on the Google Adwords platform to ensure optimization of each platform is differentiated. For example, we know that consumer search behavior can differ from shopping behavior, and youtube content consumption can differ from blog content consumption; so it's important to utilize each channel effectively. However, running an awareness campaign or a retargeting campaign across Performance Max to ensure you are targeting users across all channels would be an effective way to reach the right people, at the right time, and let Google optimize based on performance of all channels for one series of messaging.
Text
Headline = 30 characters max
Long Headline = 90 characters max
Description = 90 characters max
Business Name = 25 characters max
Image
Marketing Image = Landscape 1.91:1) 1200 x 628
Square Marketing Image = 1:1 1200 x 1200
Square Marketing Image = 1:1 300 x 300
Portrait Marketing Image = 960 x 1200
Logo = 1200 x 1200
Landscape Logo -= 1200 x 300
Youtube
Video = horizontal, vertical or square (10 seconds in length)
All creative assets must be less than 150 KB.
Images (other than logos) should not have text on them.