The Salon industry is competitive, its the nature of the type of service it is. From chair rentals to overall branding, salons battle each other in one primary focus area; relationships. Stylists grow their skills and create long lasting relationships, those relationships then bring clients in and referrals. However, this doesn't mean that salon's can't utilize their own branding to acquire new clients and awareness, which will benefit the location(s) in various ways. Not only will you bring new clientele into your salon, but it will also contribute to your overall culture. The best stylists need to know that their salon puts in the work to bring new people to them, just as much as they know they have to maintain and create their own relationships for the benefit of both themselves and the salon they work at or are a part of.
Where salons sometimes struggle is the costs associated with digital advertising. The reality is, if you have an active social media presence, and your website reflects your stylists and their work, the key is actually not that complicated. You need to bring as many qualified people (generally, women) through to your website so that they can start engaging with your brand.
Many salons engage in digital advertising services with agencies and are pitched that they need to spend over $1,000 a month to start running online ads, but that isn't necessarily always the case. A more affordable approach can be taken, and if set up correctly can drive traffic through to your website, and get you additional bookings. If your spend is less than the price of a pair of shoes, and you bring in 10 new clients per month, a total year over year return on investment on your digital advertising will be substantial.
The first thing you have to do is understand the objective of your digital advertising approach.
The object is not always to increase phone calls or online bookings.  The approach here is to simply get as many qualified visitors through to your website as possible, with a minimum of 200 per month as a goal. If you think about this logically, bringing 200 women in your ideal geographic target market through to your website should start translating to sales. This is the safest and most intelligent way to approach this type of strategy. Bringing 200+ potential customers to your website that highlights your location, your hours, your services, your stylists, and your overall branding will start to deliver you new business.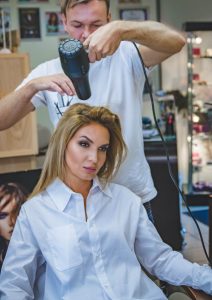 A minimal approach to budget needs to be executed well, and very strategically.
There are a few aspects to this type of campaign that need to be setup when it comes to a Digital Advertising Funnel for a salon. Let's say for example, we are using a $100 ad spend budget (for simplicity sake), I would recommend that you break your budget as follows:
30% of your budget allocated towards Cold Audience Banner Advertisements
20% of your budget allocated to a retargeting banner ad campaign
50% of your budget allocated to a keyword search campaign on Google.
Banner Advertisements are those "Ads" you see on major newspaper websites, blogs, tourism websites, shopping websites, etc.. where an Ad surfaces. We are able to target specific genders, demographics (ages), location and interests and put your brand in front potential customers while they are consuming content that may even be completely irrelevant to your service offering. Ad platforms are able to understand if someone has been actively searching for salon services and then put your ads in front of them. Your ads need to be bold and highlight your differentiators, but this will get quality and net new people (traffic) through to your website.
Retargeting banner advertisements is basically what I call the "Amazon Effect". As a test, go to Amazon and add a product to your cart (pick a major product that is from a major brand) but don't check out. Then watch as you surf the web and social media over the following days. You will notice you will start to see advertisements for that product and Amazon "follow you around the internet". This is retargeting. In subtle ways you can remind people who have shown interest that your salon is open for business and how great you are.
Search Advertising is the most expensive. Narrowing searches down to specific and strategy keywords in the right geographic areas (sometimes even within blocks of your salon) will assist in keeping your costs low and drive through new clients to your website when they are immediately and actively looking for your service. This is called "Intent based advertising" because the person is showing purchasing intent.
The combined above campaign strategies will effectively deliver quality traffic through to your website. If you aren't running ads and are seeing let's say 200 people visit your website per month, this will at least double it and bring in new people who have never heard of your salon before.
Ensuring that you are measuring, optimizing your ads (changing keywords and targeting) on an ongoing basis will help drive more qualified traffic through to your website and generate more leads for your salon.